Having completed the hull, I moved on to the inside of the boat. I made the decision early on not to restore the inside of the boat and just clean it up, removing the flaky paint to try to minimise condensation…..of course I ended up doing more than planned!
Inside
Below are some pictures of the inside of Zephyrus after removing the floor boards.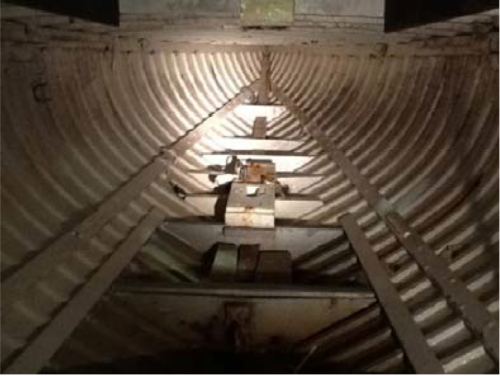 Although I had not intended to do much work on the inside this year, it became apparent during the cleaning that the bilge was in need of some work.
Bilge
The work on the bilge consisted of removing the old paint, applying two coats of primer followed by two coats of bilge paint. The results can be seen below. There are several steel lifting points attached to the keel, some are dead eyes, others are elbow brackets. These were treated with two coats of antirust coating prior to the application of the primer. At this point in time I had also removed the cabin which will need to be modified and its size reduced.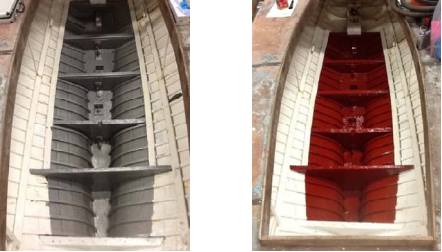 Floor
In the longer term, I am planning to use planks for the floor. Zephyrus being a 'Forth' Gareloch was originally fitted with teak planks. I have however some good length of pitch pine from a floor I have lifted from our house (which I am also working on). I intend to use these planks instead. This is another job for next winter. For this season, the floor has been made with 18mm WBP ply as can be seen below.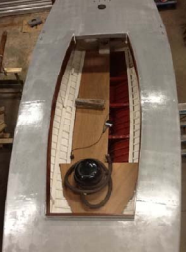 Mast chock
The mast chock also needed to be replaced. It was originally made of 1 1/2″ Oak or Elm. I have managed to procure a 2″ oak piece without any knots or splits. Below is a picture of the mast chock after two coats of primer and two coats of bilge paints (just used what I had left-over), before re-fitting between the floor beams.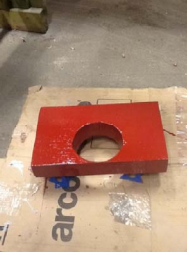 Finally, I re-located the 51kg lead ballast and fitted a new hand pump. I was wondering where the requirement for this ballast came from. My thinking is that, originally when the boats were open, they were designed to carry 3 people. When the cabin was added in the 1950's, I assume that most of the boats were sailed by only 2 people by then and the weight was added for balance to replace the missing person. Anyone know whether this is the case?