The finish line!
Zephyrus' launch is now booked after 5 long months of hard work. Before I could organise the launch the deck refitting had to be completed, as well as setting up the rigging, both standing and running.
Below are pictures of Zephyrus on the morning she was moved outside (the first she had been out in 5 months) to be measured, as well as pictures of her deck once the re-fitting had been completed. A feature to note I suppose is the nice seats made by Chris (I do like my comfort on board)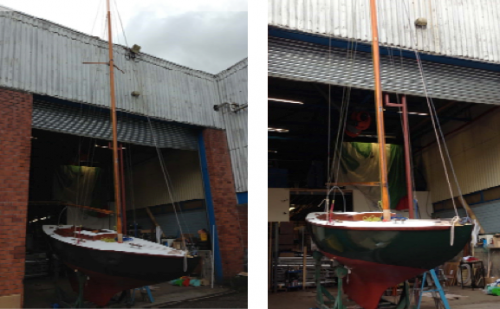 Finally, the numbers
I reckon that over the past five months or so, I have spent 500 hours on Zephyrus, excluding Chris' hours. Overall her restoration, so far, including her purchase has come to around £6,000. I have ordered everything on line and I reckon that the cost of shipping amounts to about 5% of the value of the purchased items. However, by shopping around on the web, savings much bigger than 5% can be made, so it's something to bear in mind.
Interestingly, I found long/canal boat chandlery to be cheaper than yacht/sailing boat chandlery. My main sources of supplies have been:
Toplicht for classic chandlery (keep an eye on the exchange rate)
Classic Marine for ropes
Seaware for fastenings
Marinesuperstore for paints
eBay for a lot of bits and pieces including vintage tufnol blocks and bronze parts.
I am now looking forward to a good sailing season (and a new load of work for next winter).
Again I would like to thank Charles Darley and Chris Ings for their support and advice during this restoration.
PS: You may have noticed that during her restoration Zephyrus sat alongside another boat. This is my Wayfarer 'Sinner' which is now for sale as I am allowed only one mistress (this is certainly how it felt to Barbara over the past five months!). If you know someone that may be interested in her purchase, please let me know